Now that this Christmas season is complete and our minds are planning for 2010, many of us are contemplating how we will represent our business brands well in the coming year. If you own or run a small business, or any size business for that matter, you no doubt have a need for high quality printed marketing materials and online graphics.
Since many of us are not professional photographers or artists, we need resources for finding great photographs and graphic clips! Let me give you our secret spots where we find really neat items at free or really inexpensive prices:
http://www.sxc.hu/
http://www.dreamstime.com/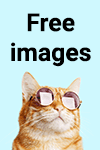 DreamsTime offers the best selection, with really high quality images. If we buy a stock photo, it's never more than about $3.75. Check them out using the button above. You can view all their photo options before purchasing. Some images are even free!
Here is an important tip: When you purchase a stock photo, you need to know how you will be using it first. If you will use it on a printed item, such as a brochure, postcard, flier, poster, etc., always purchase the 300 dpi version of it. If you will only be using it on the web, you can get away with the 72 dpi version if you'd like. You can get the 72 dpi versions starting at only $1.25 each!
Finding just the right photo or graphic for what you are trying to convey is vital. It can make all the difference in the message you are sending to potential customers.
We hope this is helpful! Blessings to you.